Worship at St James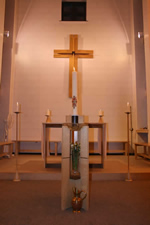 Sunday Worship
Parish Eucharist is celebrated every Sunday at 10.30am. Led by one of our ministry team, this is our main service of readings, prayers and preaching. During the Parish Eucharist, children and young people are always welcome at our services. Find out more about our facilities for children on our Children and Young People's page.
On the last Sunday of the month Family Parish Eucharist is celebrated. This often coincides with the major festivals of the church year, Harvest, All Saints, Advent, Epiphany, Mothering Sunday, Palm Sunday, Pentecost etc. This means they are joyful services which both young and old can enjoy.
For more information on Weddings, Baptisms, and other special services, please contact the churchwarden Mrs Helen Connolly either after a Sunday Service or e-mail baptismsandweddings@stjameschurch.info
Music
The Eucharistic Prayer is enhanced by musical settings composed by our own talented organist, Stephen Newlove.