Latest News at St James
Christian Aid Week
12th - 18th May
We have been asked to help out with the House to House collection during Christian Aid week. If you can spare a couple of hours to put out envelopes and then collect them in please let Ruth know.
Collectors must be 16 or over. Children and young people can help, but must be accompanied by an adult.
Further information on the Christian Aid website
Messy Church
Messy Church takes place in our church school, Sankey Valley St James just after school ends at 3.15pm. Messy Church is a relaxed and friendly time with crafts and fun as we worship God.
Please make a note of these dates and come along if you can. Everyone is welcome.
  Monday 22nd April
Monday 20th May
If you could help with this please let Martin or Ian or any of our children's leaders know.  If you would like to supply a cake for the refreshments that would be great!
Chapelford Summer Fair
There will be a local church presence at the Summer Fair on Chapelford on Saturday 8 June.  If you are free to help set up or clear away on the day, or help serve afternoon teas, please let Martin or Ian know.
Honiton Square BBQ
There will be a 3 day BBQ at lunchtimes on Honiton Square on 13-15 June.  Please let Martin or Ian know if you are able to help.
Child Friendly Church Award
St. James Church has just been awarded the prestigious 'Child Friendly Church Award'. At a special celebration service packed with young families, Mrs Sue Mitchell, the Children and Families Missioner for the Diocese of Liverpool, presented the prized award to Mrs Barbara Richards (St.James' Children and Young People's Co-ordinator) and Churchwardens Mrs Helen Connolly and Mr Mike Cox.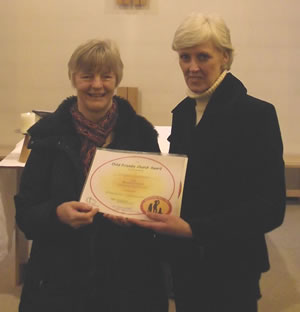 Mrs Mitchell paid tribute to the hard work and dedication of Mrs Richards and the Children and Young People's leaders and helpers at St.James'. She said that the award was given to reflect the high standard of Safeguarding at the Church as well as the priority given to enabling the children to enjoy church and help them to learn and experience the Christian faith in a fun, lively and creative way.
In addition to its Kids Club/Sunday School and Monday afternoon St.James' Totsgroup, St.James' Church has recently started a Sunday evening Youth Group ('Yoof'). In partnership with St.James Sankey Valley Primary School the church has also launched an after-school Church for Children (Good News Club) and a monthly midweek 'Messy Church' for families. There are plans to extend this work in Chapelford and Hood Manor in partnership with other local churches
The Vicar, Rev. Martin Thorpe, said: 'This important award is testimony to the friendliness and welcome that the church offers to everyone including new families and the positive partnerships that St.James' Church has developed with local schools and children's groups in our community. Sunday attendance at St.James' Church has almost doubled in the last 18 months as our work with children and young people has expanded and flourished. This is a real good news story for the Church.'
Home Groups
We now have a weekly evening and daytime group running - Please see Martin, Gregor, Susan or Paula for more details
Warrington Foodbank
Churches in Warrington, together with the YMCA have joinedtogether to form a Foodbank in Warrington.  They are asking for support from churches in Warrington.  Volunteers are needed for a range of activities from Supermarket Collections to making up food parcels, from making tea to praying for the project, and much more.  Volunteers do not need to be practicing Christians but must be sympathetic to the foodbank's aims and principles. If you are interested please see Martin for a volunteer form, or download one: Foodbank volunteer form (pdf) . Warrington Foodbank website has more information about the project.
Pioneer Ministry
Rev Dr Sarah Baker was licensed as Church of England Pioneer Minister to Chapelford in our parish at a special service at Starbucks, Gemini on Tue 6 December. You can read more and see some St James members enjoying the refreshements on the Diocese website.
Books
If anyone has any paper back books they can donate to the book stall then please pass them to Mary, or leave them in the foyer in church. The bookstall has proved very successful over the last year or so.
PCC Meetings:
The Annual Parish Church Meeting took place in April. At this meeting everyone involved in the church is welcome to come along and review what has happened over the previous year and then people on the Electoral Roll vote for the Church Wardens, PCC (Parish Church Council) members and other church officials for the coming year. You can download the 2011 Parish Report which was delivered at the meeting in April 2012
Download 2012 Parish Report
(PDF format)
Dates of PCC meetings
16th May 2013
4th July 2013
5th September 2013
10th October 2013
14th November 2013
23rd January 2014
27th February 2014
27th March 2014
27th April 2014 Annual Parochial Church Meeting after the Sunday service
22nd May 2014